Thank you for joining the fight to Stop the Tolls!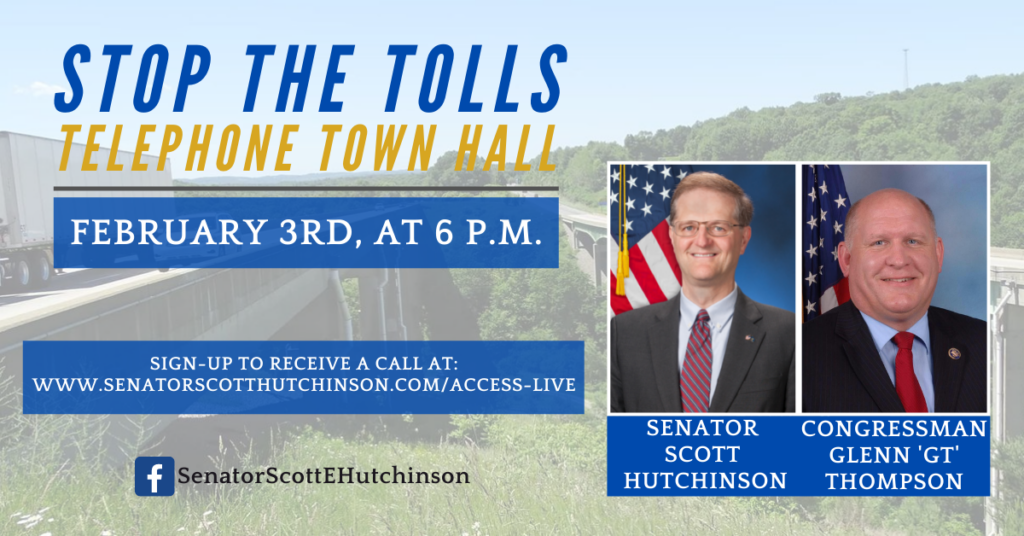 I want to first thank you for signing up to join the fight to stop the tolling of the Canoe Creek Bridges over Interstate 80 in Clarion County. Thanks to your interest in this important issue affecting our region, I will be hosting a telephone town hall with Congressman 'GT' Thompson on February 3, at 6 p.m., which I wanted to inform you of first.
This telephone town hall will give us the opportunity to hear from you. It will also allow for the Congressman and me, to offer an update on our ongoing efforts to stop the Wolf Administration's plan to toll the nine interstate bridges across our Commonwealth.
To sign-up to receive a call, please go to www.SenatorScottHutchinson.com/Access-Live. From there you will be prompted to input your information, so that you will receive a call to participate in the telephone town hall on February 3.
I look forward to hearing from you and providing you with an update on this process.