Harrisburg Happenings
A report on the Session Week of April 19, 2021
Dear Friend,
I am pleased to send you my Session Wrap Up e-newsletter. This e-newsletter features events and legislative activities from the Session Week of April 19, 2021.
If you find this e-newsletter useful, I invite you to visit my website www.senatorscotthutchinson.com for more information about your state government. If you do not wish to receive these e-newsletters, please click the "unsubscribe" button at the bottom of the page. If you would like to contact my office, please go to my website and click the "contact" button. Please do not "reply" directly to this e-mail.
Sincerely,
Scott
---
Senators Discuss What a "Yes" Vote on May 18 Means for Pennsylvania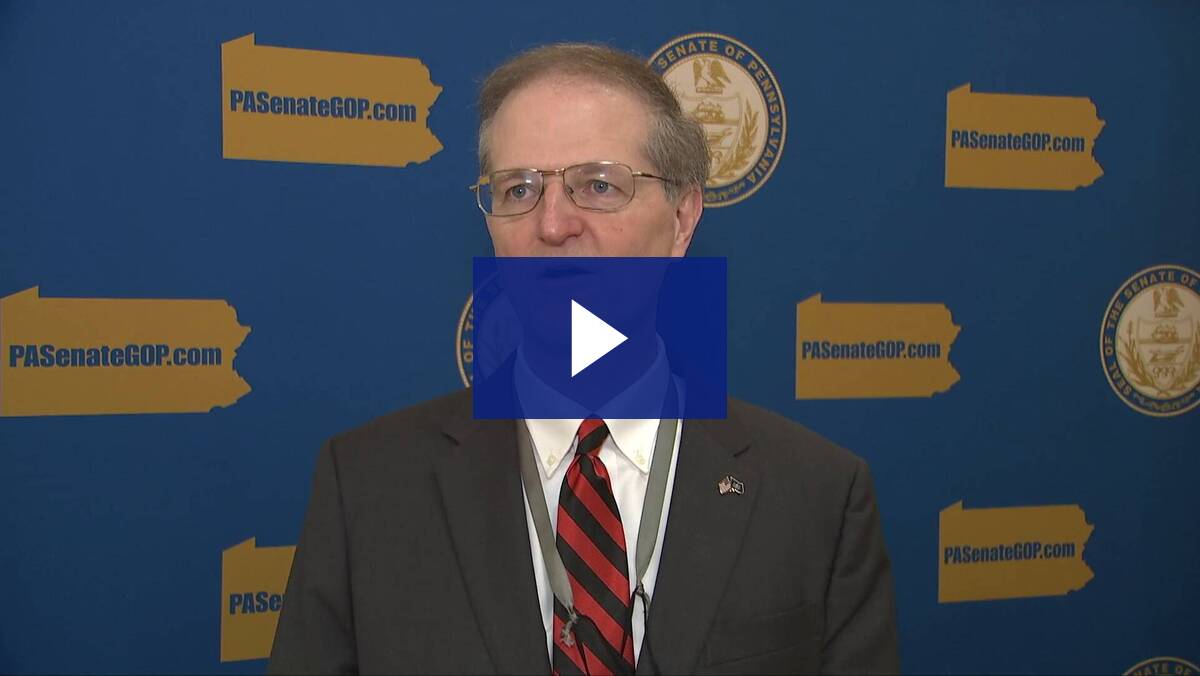 I joined with a group of my colleagues for a press conference on Tuesday to discuss what a "YES" vote on the May 18 ballot questions means and the need to protect lives and livelihoods while restoring critical checks and balances in Harrisburg. Video
Special Committee Reviews Election Integrity in Pittsburgh, Philadelphia
The Senate Special Committee on Election Integrity and Reform held a public hearing on Tuesday on the administration of elections in Allegheny and Philadelphia counties. Video
I continue to urge local residents to share their views on last year's election with the Special Committee through an online form that will be available until April 30.
The Special Committee on Election Integrity and Reform is anticipated to produce a report that will be presented to the General Assembly and standing committees covering areas of legislative recommendations, as directed in the Senate Motion establishing the Special Committee.
More information can be found on the Special Committee's website.
Senate Finance Committee Approves Four Bills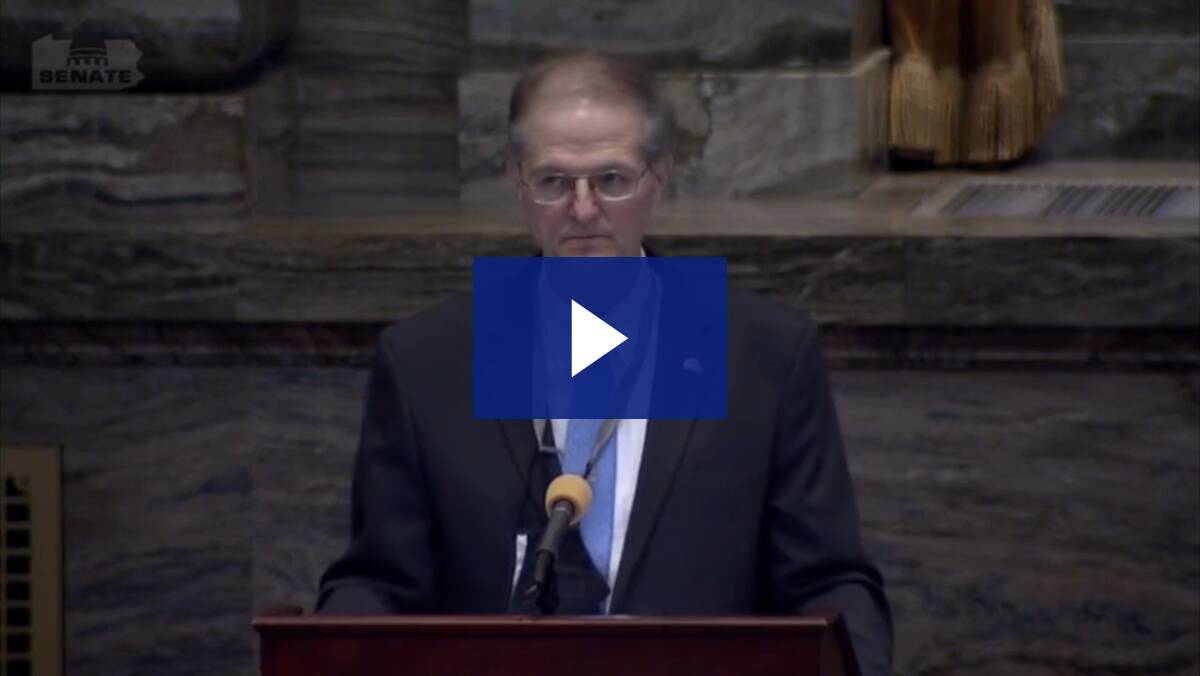 The Senate Finance Committee, which I chair, approved four bills on Monday.
Senate Bill 454, introduced by Senator Michele Brooks, provides for a volunteer firefighter tax credit of up to $500 for those with at least two full years of service and who have responded to at least 20 percent of their company's emergency calls.
Senate Bill 463, which I introduced, provides for a sales tax exemption on equipment used in the construction and operation of computer data centers. The bill was a topic discussed during a public hearing last week by the Senate Community Economic & Recreational Development Committee on the economic impact of the state's technology and energy infrastructure. Click here for audio of my comments on Senate Bill 463.
Senate Bill 562, introduced by Senator Mario Scavello, creates the Airport Land Development Zone program to incentivize development on vacant land and buildings owned by airports and leased to private businesses.
House Bill 766, introduced by Representative Keith Greiner, changes the due date of corporate tax returns from 30 days after the due date of the federal return to the 15th day of the month following the due date of the federal return and also aligns Local Earned Income Tax due dates with the federal and state tax due dates.
Committee Approves Bill Addressing Highway Drainage Facilities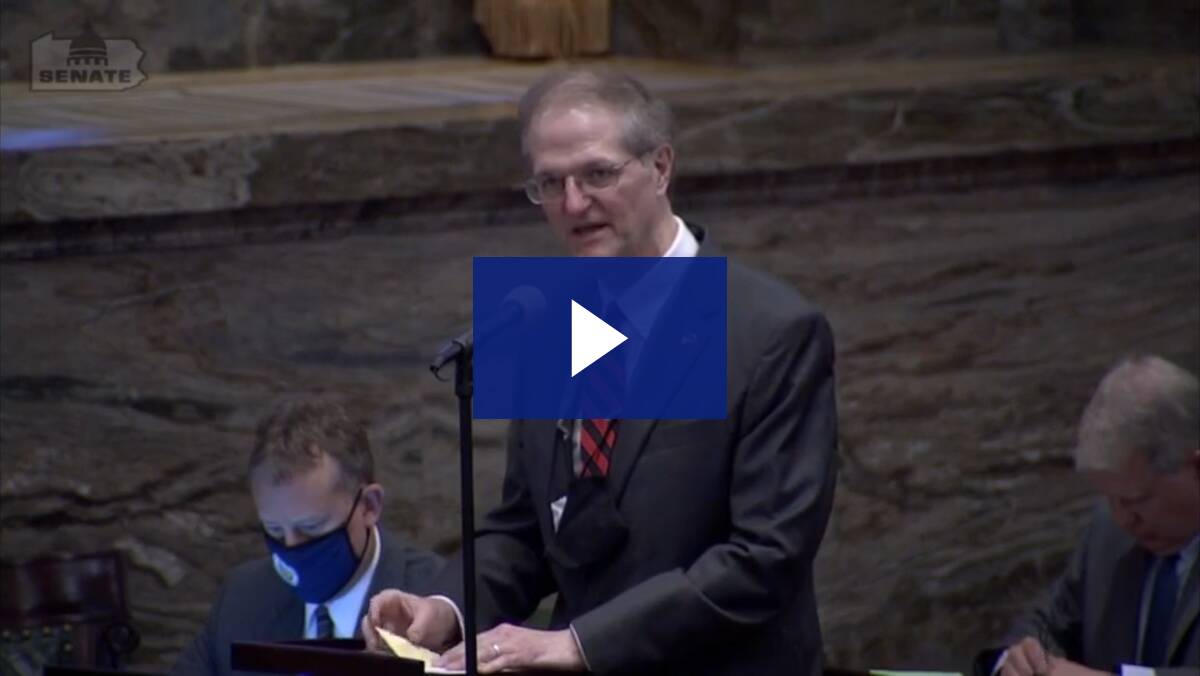 On Tuesday, the Senate Transportation Committee approved Senate Bill 283, legislation I introduced that would ease the financial burden imposed on smaller municipalities to maintain drainage facilities associated with state highways. Audio
The bill amends the State Highway Law to require that PENNDOT maintain all surface and subsurface drainage facilities connected with the state highways within boroughs and incorporated towns with populations equal to or less than 2,500 people.
The bill now goes to the full Senate for consideration.
Visit the State Capitol Virtually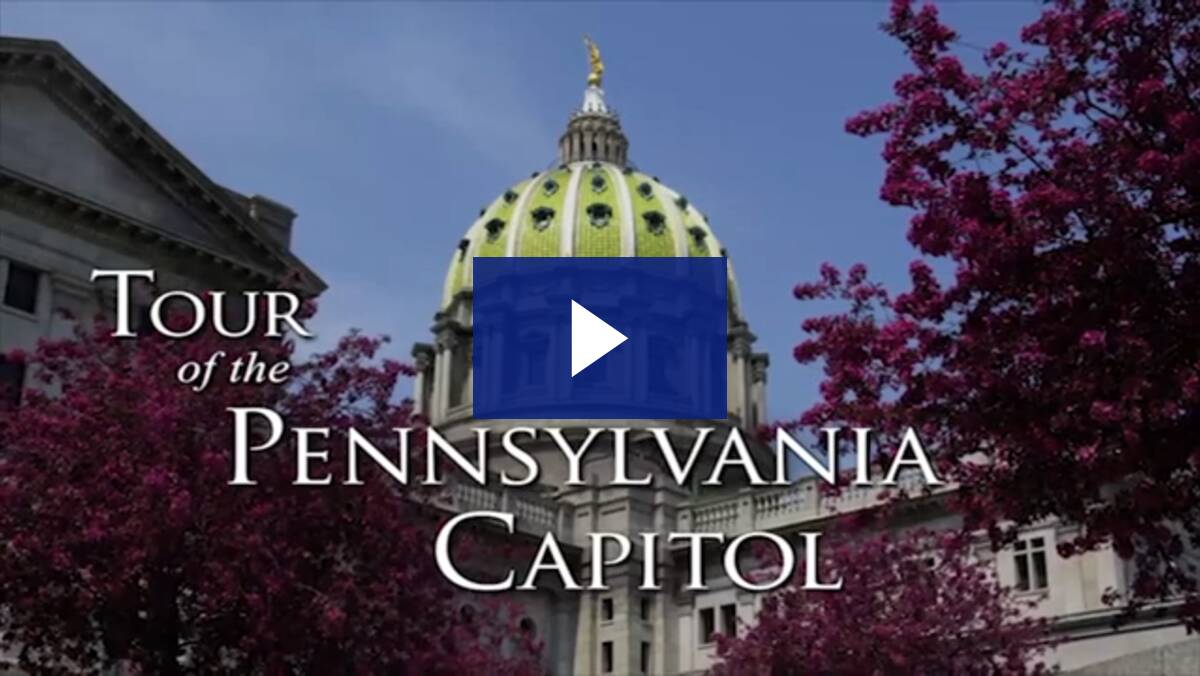 In addition to having the honor of serving as your state Senator, I also have the privilege of working in one of the most beautiful and historic buildings in the Commonwealth – our State Capitol in Harrisburg. I recently posted a video tour of the Capitol on my website (www.senatorscotthutchinson.com) as a way for everyone to virtually visit this fantastic building.
Four Bills Receive Final Legislative Approval
House Bill 14 amends the Pennsylvania Constitution to create a two-year window for retroactive lawsuits from victims whose statute of limitations has already expired.
Senate Bill 49 designates a bridge in Johnstown, Cambria County, as the Reverend Andrew William Tilly, Jr., Bridge.
Senate Bill 55 designates a bridge in Croyle Township, Cambria County, as the Private Fredrick Kinley Memorial Bridge.
House Bill 766 changes the due date of corporate tax returns from 30 days after the due date of the federal return to the 15th day of the month following the due date of the federal return.
Senate Votes to Protects Teachers' Rights, Motorists
The Senate approved a bill on Monday to repeal a portion of the state's school code that prohibits teachers from wearing religious items. Senate Bill 247, which repeals Section 1112 of the Public School Code of 1949, was sent to the House of Representatives for consideration.
Pennsylvania is the last state in the United States with this provision still in place. In 2003, the federal courts held that the school's religious affiliations policy violates the free exercise of religion and free speech clauses of the First Amendment to the U.S. Constitution after a teacher was suspended for refusing to remove or conceal a small cross necklace.
The Senate approved Senate Bill 114, a measure that would require drivers to remove ice and snow from their vehicles, on Wednesday. The current law only penalizes a driver when serious bodily harm occurs from a snow or ice projectile. Senate Bill 114 would give police officers discretion to pull over a vehicle where the buildup of ice or snow poses a potential hazard.
Both bills now go to the House of Representatives for consideration. Other bills approved by the Senate this week include:
House Bill 203, which creates the Living Donor Protection Act.
Senate Bill 248, which designates March 6 as Persian Gulf War Veterans Day and October 7 as Global War on Terrorism Veterans Day.
Senate Bill 282, which designates a bridge in Jackson Township, Cambria County, as the Sgt. Harry Lewis Amigh Memorial Bridge.
Senate Bill 317, which provides for the authority to prescribe or personally furnish antibiotics to treat sexually transmitted infections without having examined the individual for whom the drug is intended.
Senate Bill 381, which makes permanent a temporary program providing for substitute teachers.
Senate Bill 420, which addresses instances where a District Attorney's law license is suspended, or they are disbarred.
Committee Roundup
Appropriations
In addition to Senate Bill 114, House Bill 203, Senate Bill 248, Senate Bill 317 and Senate Bill 381, the Senate Appropriations Committee approved five bills on Monday. Video
Senate Bill 83 creates grants to establish fire training programs for high school students.
Senate Bill 108 dedicates additional Medicaid funding for ventilator and tracheostomy services.
House Bill 110 changes the composition and terms of membership of the Hardwoods Development Council.
Senate Bill 190 allows for Designated Essential Family Caregivers in long-term care facilities.
Senate Bill 457 amends the state Constitution to require the Attorney General to have an active law license.
The Appropriations Committee approved House Bill 766 on Tuesday. Video
Banking & Insurance
The Senate Banking & Insurance Committee approved two bills on Monday. Video
Senate Bill 425 amends the Mcare Act provide for informed consent.
Senate Bill 432 strengthens the independence of the Banking Fund and ensures a strong dual banking system in the Commonwealth.
Communications & Technology
The Senate Communications & Technology Committee approved two bills on Tuesday. Video
Senate Bill 341 addresses regulations applicable to landline telephone companies to facilitate the deployment of broadband services in rural areas.
Senate Bill 442 directs the Department of General Services to include information on the possible use of such assets for fixed or mobile broadband services in its surveys and inventories of Commonwealth properties.
Education
Education officials and advocates discussed school reforms involving accountability for all schools, school choice, charter schools and other potential changes during a Senate Education Committee hearing on Monday. Video
Judiciary
The Senate Judiciary Committee approved three bills on Wednesday. Video
House Bill 184 provides for enhanced penalties for causing or aiding suicide when the individual who dies by suicide is under the age of 18 or has an intellectual disability or autism spectrum disorder.
Senate Bill 521 criminalizes the act of "upskirting."
House Bill 951 addresses the statute of limitations for childhood sexual abuse cases.
Rules & Executive Nominations
The Senate Rules & Executive Nominations Committee approved Senate Resolution 90 on Monday. Video The Resolution extends the emergency temporary rules adopted to maintain continuity of operations of the Senate during the COVID-19 disaster emergency until May 31, 2021, or 10 days following the expiration of the emergency declaration, whichever is earlier. The Resolution was subsequently adopted by the full Senate on Monday.
The Rules Committee approved Senate Resolution 29 on Tuesday. Video The Resolution, which sets a temporary rule of the Senate for amendments to supplements to the state budget, was adopted by the full Senate on Wednesday.
Transportation
In addition to Senate Bill 283, the Senate Transportation Committee approved five other bills on Tuesday. Video
Senate Resolution 53 directs the Legislative Budget and Finance Committee to study PENNDOT's highway maintenance funding formula.
House Bill 26 designates a bridge in Pine Creek Township, Clinton County, as the Tech. Corporal Lee R. Phillips Memorial Bridge.
House Bill 56 designates a bridge in Northern Cambria Borough, Cambria County, as the Sergeant William Stock Memorial Bridge.
House Bill 124 designates a bridge in the City of Johnstown, Cambria County, as the City of Johnstown Firefighters Memorial Bridge.
Senate Bill 445 provides for donations to the Pennsylvania Breast Cancer Coalition when renewing a vehicle registration or driver's license.