Harrisburg Happenings
A report on legislative actions from the Session Week of June 29, 2020
Dear Friend,
I am pleased to send you my Session Wrap Up e-newsletter. This e-newsletter features events and legislative activities from the Session Week of June 29, 2020.
If you find this e-newsletter useful, I invite you to visit my website www.senatorscotthutchinson.com for more information about your state government. If you do not wish to receive these e-newsletters, please click the "unsubscribe" button at the bottom of the page. If you would like to contact my office, please go to my website and click the "contact" button. Please do not "reply" directly to this e-mail.
Sincerely,
Scott
---
Senate Approves My Bill Improving Office of State Fire Commissioner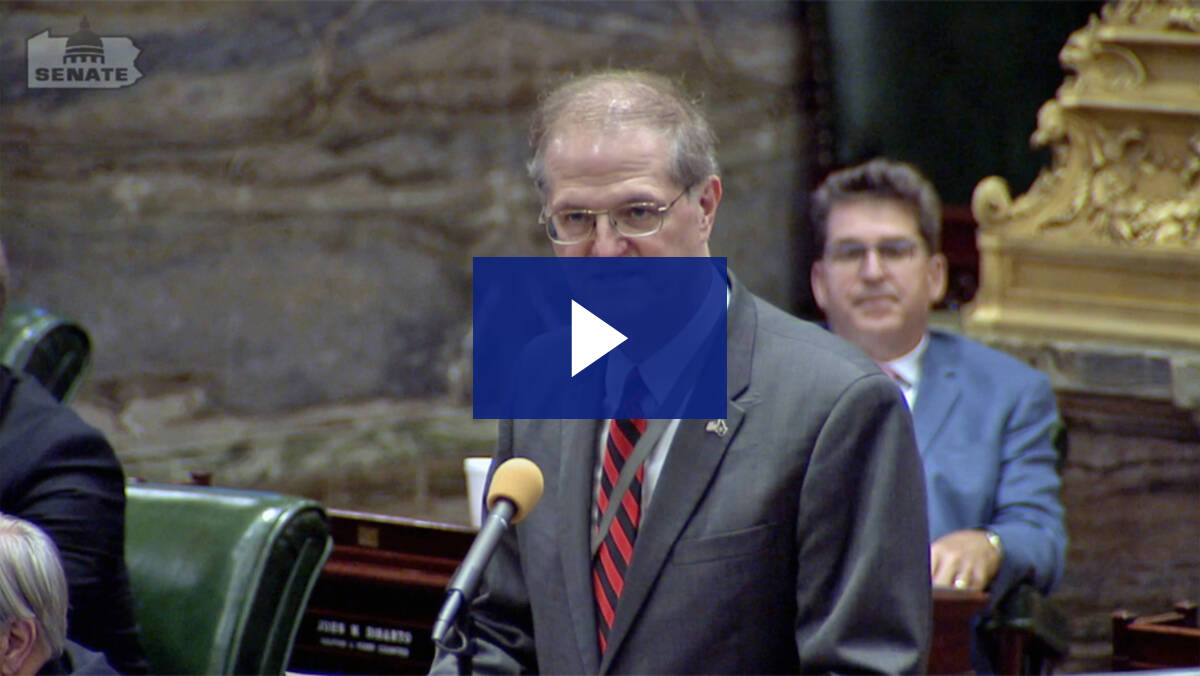 On Tuesday, the Senate passed legislation I introduced that will fundamentally restructure and improve the Office of the State Fire Commissioner. Senate Bill 987 is one of 27 recommendations made by the SR 6 Commission, a 39-member panel that was comprised of fire and EMS leaders from throughout the Commonwealth. audio
Under the bill, the State Fire Commissioner would become a member of the Cabinet and report directly to the Governor. As such, the Fire Commissioner will be a high profile advocate for fire and EMS services and among other duties, his office will be charged with assisting departments with their volunteer and employee recruitment efforts.
The Fire Safety Advisory Board would be comprised of volunteer and professional firefighters representing specific regions from throughout the state. It will also include non-voting members representing the General Assembly as well as several organizations representing counties, municipalities and first responders. The panel will be empowered to review and make recommendations on innovative programming and legislation and assist municipalities in developing standards of response coverage.
Fire companies throughout Pennsylvania are facing significant operational challenges ranging from funding shortages to difficulty finding employees and volunteers. The passage of this measure will help those dedicated first responders serving in our communities by elevating the status of the State Fire Commissioner and streamlining its operations. Another important component of the bill is the establishment of a statewide Fire Safety Advisory Board that will meet regularly to proactively advise the Commissioner on issues concerning fire safety.
The bill now goes to the House of Representatives for consideration.
Bill Improving Daycare Safety Sent to Governor
A bill to protect children in state-regulated daycare facilities received final legislative approval on Monday and was sent to the Governor for enactment into law. Senate Bill 934 was introduced in response to a tragic fire that claimed the lives of five young children in Erie last year. The bill requires family daycare homes to have a smoke detector on each floor and in the basement, as well as a portable fire extinguisher, and meet occupancy and licensing requirements.
Other bills sent to the Governor's desk this week include:
Senate Bill 352, which provides local taxing authorities with the option to designate deteriorated areas and offer incentives to developers and property owners to rebuild or improve the blighted properties.
House Bill 1860, which amends the Urban Redevelopment Law to allow municipalities of any population and type to create a redevelopment authority.
House Bill 2045, which provides for a property transfer involving Ohiopyle Borough, Fayette County, and Ohiopyle State Park.
Senate Approves Policing Reform Bills
The Senate approved bills on Tuesday intended to improve police training and reduce deadly force incidents and sent the measures to the Governor for enactment into law.
House Bill 1841 requires thorough background reporting and investigations for prospective law enforcement applicants. It requires law enforcement agencies to keep records of the reason for a police officer's separation from service, including criminal records, civil suits and any other ethical complaints against the officer.
House Bill 1910 requires the Municipal Police Officers' Education and Training Commission to provide instruction on interacting with individuals of diverse racial, ethnic and economic backgrounds. It also will train officers to recognize and report child abuse.
Also on Tuesday, the Senate approved House Bill 256, which expands Pennsylvania's definition of institutional sexual assault to include law enforcement officers and any person in the officer's custody. The bill improves safety for Department of Corrections staff and the public and provides tougher penalties on inmates who assault prison staff. The bill returns to the House for concurrence on Senate amendments.
The Senate approved two policing reform bills last week.
Senate Bill 459 provides law enforcement agencies with record keeping and reporting requirements regarding the use of force and deadly force by law enforcement officers.
Senate Bill 1205 prohibits the use of chokeholds except in situations when the use of deadly force is permitted.
Senate Bills 459 and 1205 are currently before the House Judiciary Committee for consideration.
Senate Votes to Help Community-Based Healthcare Centers
Community-based health centers could better meet the needs of those in underserved areas under a bill approved by the Senate on Monday. Senate Bill 273 would make improvements to the Community-Based Health Care Program. The program provides funding to community health clinics to ensure services are available, which reduces the unnecessary use of hospital emergency rooms for non-emergent care.
Senate Bill 273 removes a cap on funding and ensures all applications for the money can be considered in a competitive review process regardless of the type of provider. The bill was sent to the House of Representatives for consideration.
Other bills sent to the House this week include:
House Bill 632 , which allows a licensed dealer or insurer to use a secure power of attorney that may be signed electronically when transferring a vehicle. The bill returns to the House for concurrence on Senate amendments.
House Bill 943, which creates the Consumer Prescription Drug Pricing and Freedom Disclosure Act to stop pharmacy benefit managers from barring pharmacies from informing customers when they can save money on a drug by paying with cash instead of using health insurance. The bill returns to the House for concurrence on Senate amendments.
Senate Bill 1045, which removes the sunset provision for the County Demolition Funding Program.
Senate Bill 1182, which ensures the distribution of funding from the PA Fair Fund to eligible fairs that have to cancel this year's events due to COVID-19.
Senate Bill 1193, which addresses funding for sheriff and deputy sheriff education and training.
Senate Bill 1195, which amends the Insurance Company Law of 1921.
Senate Bill 1199, which establishes rules for the use of personal delivery devices.
House Bill 2455, which requires the Governor to submit to designated members of the General Assembly the plan for COVID-19 testing, including any amendments, that was submitted to the Secretary of the United States Department of Health and Human Services pursuant to the federal Paycheck Protection Program and Health Care Enhancement Act.
Committee Roundup
Appropriations
In addition to Senate Bill 1045, Senate Bill 1182 and Senate Bill 1195, the Senate Appropriations Committee approved House Bill 1459 on Monday. House Bill 1459 creates a mental wellness and stress management program for emergency responders.
In addition to House Bill 256, House Bill 1841, House Bill 1910 and House Bill 2455, the Appropriations Committee approved four bills on Tuesday.
Senate Bill 565 addresses vehicles parking along a curbside bike lane.
Senate Bill 764 prohibits telemarketers from spoofing phone numbers — so the call appears to originate from the same local area as the recipient.
Senate Bill 869 establishes a moment of silence in schools coinciding with the anniversary of Sept. 11.
Senate Bill 940 amends the Municipal Code and Ordinance Compliance Act to define a condemnation order.
Banking & Insurance
The Senate Banking & Insurance Committee approved two bills on Tuesday.
House Bill 1439 requires insurers to annually file a statement with the Insurance Department attesting to their efforts to comply with federal laws and regulations relating to mental health and substance use disorder parity.
House Bill 1696 requires insurers to annually file a statement with the Insurance Department attesting to their efforts to comply with federal and state laws concerning mental health parity and substance use disorder treatment benefits.
Health & Human Services
The Senate Health & Human Services Committee approved two bills on Monday.
House Bill 941 provides for pharmacy benefit manager pricing transparency.
House Bill 942 amends the membership of the Pharmaceutical and Therapeutics Committee by including two individuals representing community pharmacists as well as physicians, pharmacists and other members appointed as needed to develop and maintain a preferred drug list.