December 2018


Dear Friend,
I am pleased to present my electronic newsletter. These e-newsletters enable me to provide information about issues, events and activities in Harrisburg and around the 21st Senatorial District to you in a timely manner while saving postage costs.
If you find this e-newsletter useful, I invite you to visit my website www.senatorscotthutchinson.com for more information about your state government. If you do not wish to receive these e-newsletters, please click the "unsubscribe" button at the bottom of the page.
Sincerely,
Scott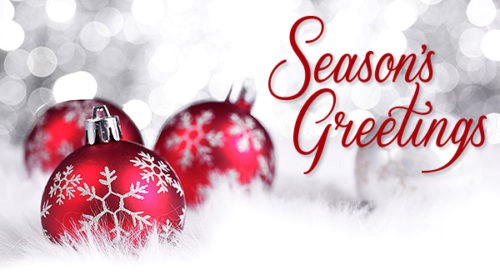 Clarion River in Running for 2019 River of the Year
The Clarion River is one of four waterways in the running to be named the 2019 Pennsylvania River of the Year. The other waterways nominated for 2019 are the Conodoguinet Creek, Delaware River, and Lackawanna River.
You can vote at www.pariveroftheyear.org through 5 p.m., Friday, January 4, 2019. The website also offers details on nominated waterways and the River of the Year program.
After a waterway receives the annual honor, local groups put in place a year-round slate of activities and events. The organization nominating the winning waterway will receive a $10,000 grant from the Department of Conservation and Natural Resources to fund River of the Year activities.
State Police Announces Thanksgiving Holiday Enforcement Results
The Pennsylvania State Police investigated 1,116 crashes during the five-day Thanksgiving holiday driving period from Nov. 21 through Nov. 25, 2018. The total represents a 13.8 percent increase compared to the 981 crashes investigated during the Thanksgiving holiday driving period in 2017.
Of the 1,116 crashes investigated, 80 were alcohol related, 213 people were injured, and four people were killed in four crashes. Similarly, during the 2017 Thanksgiving holiday driving period, six people lost their lives in crashes investigated by the Pennsylvania State Police.
Troopers made 637 DUI arrests over the holiday weekend, up from 629 in 2017. They also issued 13,863 speeding citations, 1,256 citations for failing to wear a seat belt, and 136 citations to drivers for not securing children in safety seats.
These statistics cover only those incidents investigated by state police and do not include statistics on incidents to which other law enforcement agencies in Pennsylvania responded.
2019 Pennsylvania Fishing Licenses Now on Sale
The Pennsylvania Fish and Boat Commission (PFBC) recently announced that 2019 fishing licenses are now available.
A license purchased now is valid through December 31, 2019. Licenses and related permits can be purchased at www.gonefishingpa.com, at more than 700 issuing agents, county treasurers' offices and at all PFBC regional offices
The price of a resident fishing license this year is $22.90. A trout-salmon stamp and a Lake Erie permit are available for $9.90 each, or $15.90 for a combination permit.
This year the annual Fishing Summary book of laws and regulations will be available for $3 through issuing agents. A digital version of the Fishing Summary can be viewed and printed for free at www.fishinpa.com.
LIHEAP Heating Assistance Program Now Open
Pennsylvania's Low-Income Home Energy Assistance (LIHEAP) grant program is now open for the 2018-19 heating season.
LIHEAP helps families living on low incomes pay their heating bills in the form of a cash grant ranging from $200 to $1,000 based on household size, income, and fuel type. The grant is sent directly to the utility company/fuel provider to be credited on the family's bill.
Eligibility guidelines for LIHEAP are set at 150 percent of the federal poverty income guidelines. The chart below shows the LIHEAP income limits for 2018-19.
| | |
| --- | --- |
| Household size | Maximum Income |
| 1 | $18,210 |
| 2 | $24,690 |
| 3 | $31,170 |
| 4 | $37,650 |
| 5 | $44,130 |
| 6 | $50,610 |
| 7 | $57,090 |
| 8 | $63,570 |
| 9 | $70,050 |
| 10 | $76,530 |
| Additional person | Add $6,480 |
Households experiencing a heating crisis may be eligible for additional benefits through the LIHEAP crisis program. Emergency situations include:
Broken heating equipment or leaking lines that must be fixed or replaced
Lack of fuel
The main heating source or second heating source (a source that is used to operate the main heating source or used if the main heating source is not working) has been completely shut-off
Danger of being without fuel (less than a 15 day supply)
Danger of having utility service terminated (you've received a notice that service will be shut off within the next 60 days).
Applications for LIHEAP grants are available online via the Commonwealth of Pennsylvania Access to Social Services (COMPASS) website at www.compass.state.pa.us. Applications are also available at county assistance offices, local utility companies and community service agencies, such as Area Agencies on Aging or community action agencies. Applicants may also call 1-866-857-7095.
More information about LIHEAP is available online at: http://www.dhs.pa.gov/citizens/heatingassistanceliheap/index.htm.